No voter ID is not the suppression I was referring too. I think voter ID should be a mandate.
well, what are you talking about then?
Thanks, @ajshep.
I said:
You said:
In response:
O.K. But people do this sort of thing all the time.
For example, entities, of one kind or another, will pair up, in order to accomplish a good that they might not otherwise effect independently.
In like manner, Black SDAs could say, "Let's do the same thing, for the same reason."
So, if that is not being forwarded, discussed, or put on the table, why isn't it, do you think?
You said:
In response:
It is racial. Anything involving white and non-white people is racial.
As for ownership, yes; Ownership by non-profit, tax-exempt entities in which no individual person can be a profit participant, certainly.
You said:
In response:
I understand.
You said:
In response:
CORRECTION: I suspect that there are white supremacists who pretend to be "Seventh-day Adventists."
That is precisely what I would assert, and, in the regard you've stated, that only.
You said:
In response:
I understand.
You said:
In response:
Only white people can be racist; only white persons. Assigning racism to "groups of people," in my opinion, "clouds" the issue of racism more than it clarifies it.
It's akin to saying that a "street fair," or a "parade," "stole my wallet." One will do better, getting to both the nature of the crime and to the wallet, by forensically narrowing one's focus.
Now, this does not mean that many white people do not cooperate in the practice of race. Clearly, they do. One sees the effects of this.
But it merely means that, in order to minimize confusion, one should avoid accusing "groups," "crowds," "clusters," "companies," "countries," "political parties," "state conferences," "denominations," "congregations," etc. of white supremacy (racism).
For non-white people, in my impression, doing otherwise tends to "backfire."
You said:
In response:
So, to kind of wrap this up, my guess is that many Black people understand this, but the issue isn't that one won't always get what one wants.
The issue is, when this happens, will the reasons be racist, or not?
Black conferences were formed under racism; racist duress.
As "separate" units, the non-white people in them have enjoyed a limited kind of "freedom"; one, I'm certain, to which many Black "leaders," and others, have become used.
There is nothing to affirm that, getting together with white people, in this proposed way, would not open the door to a series of insults akin to the very ones that started "regional conferences."
Many white people who call themselves "SDAs" don't even believe that racism is real, let alone that many white people practice it, doing so while pretending to be "SDAs."
What would be the fate of Black SDAs, clasping hands with people so convinced?
Think of it this way: There are many people in the U.S. who, presently, do not believe that COVID-19 is real.
Few of them are nurses or doctors, however. That's why, if you think you're infected, you have at least a reasonable chance of being treated, if you go into a U.S. hospital.
However, if it was determined that 35-40% of medical staff did not believe in the coronavirus, medical services would utterly break down, especially if it was not clear who, exactly, these disbelieving staff were.
I think that, for Black people, this is the real issue, and the underlying reason to avoid the conference "re-pairing" that many seem to, from time to time, propose. (And, by saying it's the underlying reason, I'm saying I'm not even sure that many Black people realize it.)
I don't think it's the matter of shared leadership. I think it's the possibility of shared leadership with racists.
I said:
You said:
In response:
So, what's interesting is this: We've all seen the past not even be the past, but none of us have even ever heard of anyone actually burying a hatchet.
In other words, it's a nice metaphor. IRL, it sounds good. Until you need a hatchet. Then, you just go and unbury it.
You said:
In response:
I can't speak for "liberals."
However, in 1985's The Evidence of Things Not Seen, James Baldwin said that, for Black people, the words "'ancestral' and 'daily' are synonyms."
I consider James Baldwin credible on many matters regarding race.
You said:
In response:
a) Who did?
b) What's your relationship to those who did?
You said:
In response:
That white people dominate non-white people in all areas of activity; e.g., economics, education, entertainment, labor, law, politics, religion, sex, and war—but the reverse is not true—has not changed.
You said:
In response:
That's incorrect. White people thought this.
Did you not read @JasonHines' essay, above?:
You said:
In response:
It does happen, but, for aforementioned reasons, I suspect it hasn't.
You said:
In response:
So, for what should it be used?
You said:
In response:
I don't like to speak about "Jim Crow," "slavery," "negro codes," "Democrats," or "the KKK," and I also don't tend to do so.
Like your oft-made, false charge that I claim "all white people are racists," you'd be hard-pressed to find me even using the above terms in anything I've said.
What I do say is that racism is white supremacy, and that this is racism's sole, functional form. I say this often. Yet, somehow, when you reference what I say, this is not what you quote.
Odd.
You said:
In response:
I understand.
You said:
In response:
Well, if Faulkner is true, it's fine that you can do nothing about the past, because it's not even past.
You said:
In response:
Thanks.
Do you have any doubt that I'm speaking to you?
HA
Oh Allen, I gave you a heart for that question. Would have given you many more, but the system does not allow it.
So you have no idea of what Chuck @2humBaby was talking about, uh? Well,… I believe you anyway! …
Me too!.. Yes, I do support voter ID as well. But this is not the issue here. I am sorry you have no clue about what we were referring to… Well, so be it!
Hogwash. Blacks browns yellows can all be racist. I saw it in Africa. It was called tribalism there. The Tutsis and the Hutu had a war that was based on race. So, it is not just whites.
There are plenty of blacks in the white conference. I pastored a majority black church, with about 25% hispanic and maybe 20% white. The conference leadership never asked me about sending them to the regional conference. There was no discussion of race at all. It was just another church. The other church I pastored has become more and more black, with several black families joining. Again no discussion. There is even a former regional conference president who attends there. He preaches etc. why would he join a bunch of racists? Those that have joined there have several reasons for joining, the school, the services, the fellowship, etc. Racism is not a consideration.
The church above have sent black representatives to the non-regional constituency meetings each 5 years.
The NAD now has a black president.
Apparently there are blacks in the white conferences that do not see it as you do. You cannot seem to see beyond your own opinion.
Baldwin has an interesting take, but they are not synonyms.
I stand corrected.
And you have said that all whites are racists. Too hard to look up the quote. But I have quoted you before on this.
@Harry_Allen and /\ THIS /\ is exactly what i meant when I suggested previously that you don't mean what you are saying-nor do you know what you are saying.
You are very adept at the wordcraft of slipping in a meaning that you then disavow…
Racism is also the black belief (artfully guised by the liberal agenda) that blacks cannot be racist-and that blacks bear no responsibility for the current loggerheads.
You need not my reminder of the roots of tribalism-as well the present fruit of it over there.
Be that as it may, I shall continue to pray for eye salve, that we can see beyond the relative melanin content shallow, mere skin deep-and meaningless-color. I pray I can know your white-stone engraved new name, for I believe I can trust in the content of your character.
Nor would I ever suggest you are a racist who just happens to call himself Adventist-a severe charge you intimated towards Allen (by your definition, as a male, you are MALE SUPREMACIST-which is a problem far deeper, longer, pervasive than "race". As an aside, one could possibly also suggest you view yourself as a religious-supremacist. Whether that is your role or identity matters little at the end of the day )
One cannot go around with broadest of brushes tarring all white people as racist without getting some on yourself-I'd suggest that raising your expectations to look where racism is NOT you will breathe m ore peacefully. But nobody examines the hundreds of millions of DAILY white-black exchanges that are clearly not racist, preferring instead to focus on the very few (horribly tragic) incidents.
Your blindness to black on blackcrime, or black fatherlessness, or black criminal rates, or black abortion rates have nothing to do with the issue, according to you-
but seems to have inured you to any truth except your thinly coercively defined extrusions of the meaning of your finely parsed words.
Your words have a meaning, a meta-message, which you seem deaf to, and which yields you to an irrelevance in your quixotic quest.
Edit to add; DiAngelo and her supposition that white inability to talk about or admit their coerced racism means they are both fragile and racist might just as well be pointed at blacks who likewise cannot admit their own tribalism, err, racism- or how that tribalism might contribute to the black on black crimes (and all those other things you unsurprisingly and handily wish to gloss over)
Here are three in no particular order:
Gerrymandering
Voter Purging
Disenfranchisement
There are others but voter ID is not in my opinion one of thiose
Thanks, @ajshep.
I said:
You said:
In response:
This is not racism. One might call these examples "mistreatment," "ethnic hostility," "tribal conflict," or other names.
However, racism, is different. Racism, first of all invokes the idea of "race," which is a concept that has no basis in territory, national origin, ethnicity, or even biology.
Racism's foundation is in relatively new notions of inferiority and superiority, and these are connected to skin color. It divides human beings into white and non-white sectors; ones via which white people then dominate non-white people.
Racism does this globally, in all areas of people activity: economics, education, entertainment, labor, law, politics, religion, sex, and war. The reverse is not true.
So, just to cite the example you've provided—the Rwandan conflict between the Hutu and Tutsi in 1994—it doesn't fit any of these descriptors. This was a fight between neighbors. It was based on ethnicity, which is a longstanding and legitimate anthropological metric for dividing human beings.
These African national groups are, both of them, non-white. So are, for example, Tanzanians, whose country borders Rwanda. However, the Hutu did not seek Maasai people to kill, and would not have slaughtered them had they come across them. They had a very longstanding, limited disagreement with Tutsi (and Twa) people, and deliberately murdered them.
This marks a common characteristic of ethnic conflicts: They're typically of limited scope. This, compared to, for example, the so-called "Berlin Conference," in which white supremacists dominated people who weren't white, regardless of their ethnic group, all across "Africa."
The conflict between the two non-white people groups you mentioned does not begin to compare to the system of white supremacy (racism) in range or sweep. Racism would designate a Tutu man crossing the Antarctic ice as a non-white person, to be dominated as a victim of racism. This would be long after even the most antagonistic Hutu had long lost interest in him.
So, yes, non-white people can mistreat each other. However, only the white supremacists have organized "hatred" into a global system organized around "color" and "non-color." It's a difference in scale, one might say.
Think of it this way:
Your wife may bake cookies, be good at it, and even sell some of her tasty wares to local stores. But you wouldn't call what she does "NABISCO."
Only one cookie-maker gets to call themselves NABISCO. Only one cookie-maker has a 1,800,000-square-foot facility in Chicago—the largest bakery in the world—with more than 1,200 employees who produce 160,000 tons of snack food every year. Only one sells $674.2M—nearly three-quarters of a billion dollars—worth of Oreos®, alone, every 365 days.
If what NABISCO does is "NABISCO-ism," or "NABISCO Supremacy," you can't use the word "NABISCO" to describe what your wife does, one sheet pan at a time, even if she makes a delicious toll house. NABISCO is in another galaxy of operation.
Another way I say this is, "Black guys mug old ladies. White guys mug ecosystems."
Non-white people may, any and all of them, mistreat other non-white people. But only the white supremacists have a mistreatment infrastructure to produce global mistreatment effects against non-white people. The reverse is not true. Only white people who practice racism, collectively, have a system; a race system. That system is racism. Racism is white supremacy.
Now, I've explained this to you, previously, and I've done so many times; the NABISCO example is one I gave to you, almost word-for-word, over two years ago.
It's fascinating to me that the things I do repeat—e.g., that racism is white supremacy, and this is its only functional form—you respond to with fresh zeal, at each mention, as though I'd not already stated is, and disassembled your stale arguments.
However, the things I've never said—e.g., "all white people are racist"—you repeatedly assert you've seen me say, in a manner akin to your recently mentioned psychotic relative.
The historical dominance that white people have asserted, resulting in global catastrophes based on skin color, is an essential and basic fact of understanding what is meant by racism; i.e., at least, what Black people mean by it. (White people typically resist when I make these statements about racism. Black people tend not to do so,)
After my thousands of words, that you still cannot apparently grasp this fundamental detail—or even, perhaps, that you act like you don't—is part of the very tone-deafness of which I was speaking, previously.
It's an aspect of white hard-headedness that Black SDA parishioners would have to endure when reuniting with white ones in some future setting. Ain't nobody got time for that.
I said:
You said:
In response:
If you think that these small examples of Black people and white people worshipping together, with a certain number of Black people in leadership positions, means that Black people, en masse, would willingly join white SDAs in shared leadership and congregations, why didn't you just say that, in your last post?
Had you done so, I would have responded to what you've just written, above, doing so then.
As I see it, your overall point(?) is essentially irrelevant and non-responsive.
As for these observations…
…Ask him if he thinks there are racists in that congregation, as well as in the larger SDA denomination.
Then, ask him what he thinks the hope is of eliminating regional conferences and merging the populations of those congregations with white ones.
Finally, ask him what would he fear more in such a scenario: Shared power, or white dominance.
I know that you won't, because—based on previous experience—the last thing you apparently want to hear is what non-white people really think about race.
Re: this…
…to whom, when?
I said:
You said:
In response:
They are not synonyms to you? Or to Black people?
You said:
I said:
You said:
In response:
It's OK. I'm fairly confident you'll re-assert your original point as soon as possible.
I said:
I also said:
You said:
In response:
You're either mistaken, or lying. I suspect you're lying.
And what makes it most pitiful is this: If I said it, why would I say it just once? Why wouldn't I say it again? Why wouldn't I say it often?
Do you get the impression that I don't say what I believe, or that I'm hiding my thoughts on race from you, of all people?
If I thought all white people were racists, what, reasonably, do you think would be my reason for not saying so, and even saying so often?
There isn't much I've said about race that I don't say over and over again. Just above, I repeated an analogy that I used 2 years ago, and have shared many times.
Do you see me ever say, "I shouldn't have said that"? If not, the likelihood is that I stand by what I've written. So, if I said that "all white people are racists," why would I be trying to hide that I said it?
I'm not trying to prove myself to you. I'm just trying to document how insane your repeated charge sounds.
You said:
In response:
That's not true, either: The software that Spectrum uses for this forum has very robust search capabilities. All you'd need to do is put the words…
"all whites are racists"
or
"all white people are racists"
…into the search function at the upper-right-hand corner of the screen, near your "A" icon.
All you're going to find in this area, concerning me, of course, are exchanges like this one: Where I refute your silly accusation.
You said:
In response:
Something's wrong with your keyboard, Allen: The words lied about came out as "quoted."
HA
Jason, don't let that stop you!
Seriously though, when you do arrive at the pearly gates, please explain your plight to the One who knows how to ask questions how black fatherlessness impacts the community in these areas that you love - and tell them how you overcame these things, and what you personally constructively did to remedy them
Adam blaming Eve for his failures didn't work any better than Cain blaming Abel-you blaming whites for these ills you harp on aeems to be equally off base.
Which again brings up that other issue-gender based discrimination is far more entrenched, systematic, and damaging to society. What have you done to correct this evil? Women still earn less…and are discriminated against, even in our very church.
There are far more instances where racism is NOT-but no one looks at those incidents. Not doing so, and focusing only on the "race porn" is a type of lie. It's been opined that every day some 3 million police interactions are conducted which are clearly not racist-but according to you and your very restricted and intentional tunnel vision, these are irrelevant…
Thanks, @Timo.
I said to @ajshep:
You said:
In response:
I appreciate what I think I detect as your concern, @Timo, and reject what I take as your usual false charges, but, most of all, as is typical, I don't really understand what you're saying, and, sadly, increasingly, I don't care.
The one exception is this statement:
In response:
If you're not lying, what are your example(s) of this?
Someone(?) said:
In response:
I'm not clear: Is this a statement by you, @Timo?
Or is this an interjection by the moderator of this forum? I'm unclear.
I think it's an addendum by you, @Timo. It seems more in line with things you've said before, and bears your amazingly indifferent approach to written communication.
What I can say is that the white default, to bringing up "black-on-black crime," when Black people raise police brutality/white supremacy as a subject, is a racist chaff flare, or countermeasure, akin to those that warplanes use to mislead and deflect incoming missiles: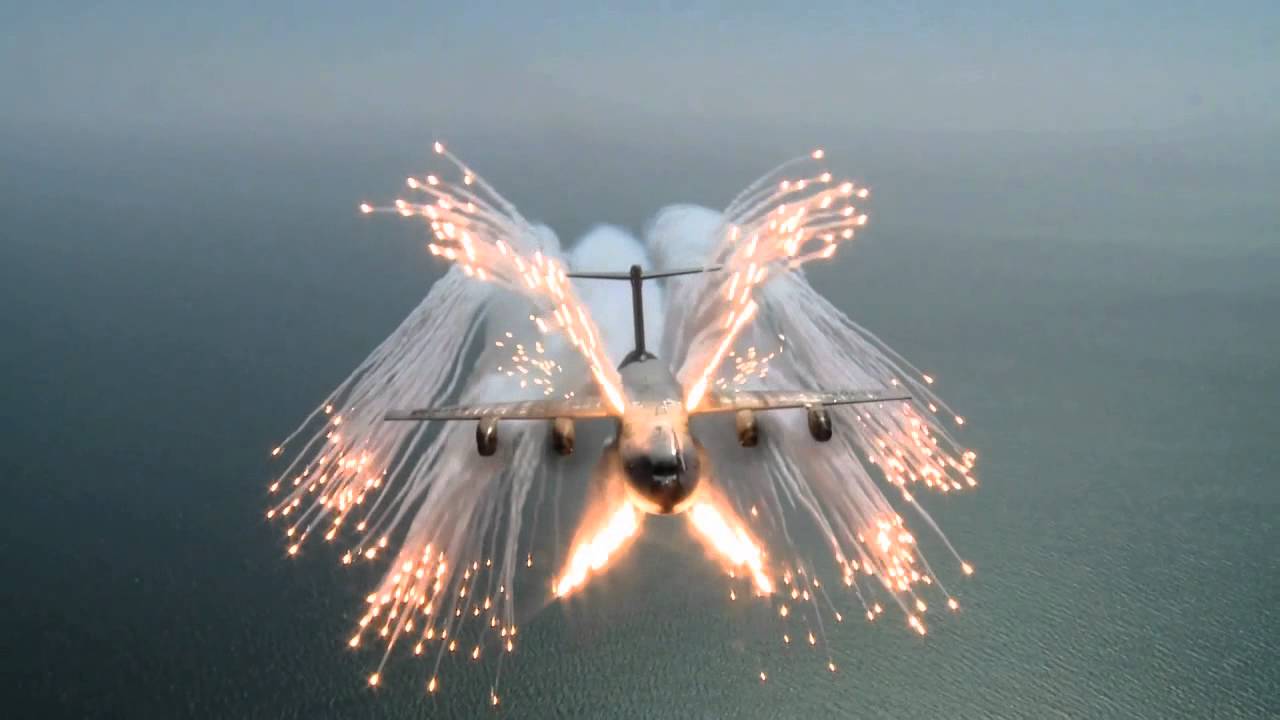 In other words, it's a distraction, and not to be taken seriously.
As for your model—that white fragility has a Black counterpart—I agree!
However, it's not a Black inability to "admit their own tribalism, err, racism."
It's a Black unwillingness to tell white people what Black people really think about racism. Most Black people find themselves unable to do this in an orderly, straightforward way, and/or without extremely high, often debilitating emotion. Because of this, they often avoid the subject.
Of course, if they do finally mount the will to speak to white people about race, they are usually met with high white hostility; e.g., of the sort you typically bring to my words.
The difference between me and many Black people, however, is not only is your hostility just laughably silly to me
, but, as I've ably shown, when it comes to calm, orderly, logical discussions of race, to quote Captain America:
HA
Hi @Harry_Allen, thank you for your question. That paragraph in bold was added by @Timo at a later time than his original post (hence his beginning it with "Edit to add:"). It was NOT written by a moderator. You can see what edits were made to a comment by clicking the pencil icon in the top right of a comment. In addition to showing what edits were made in the screen that pops up, it will also show who made the edits and at what time.
-WebEd
Stating (hundreds of times) that racism is exclusively white supremacy, reveals a horrible bias and will probably get nobody to agree with it.
The concept itself is flawed, and will remain flawed no matter how many times it is thrown in the mix.
The color of my skin doesn't automatically make me a racist. I wonder if the endeavor to persuade others that all white (and only whites) are racists may actually be one of the manifestations of racism,…
White supremacy is one form of racism, sure. But it's not the only way racism is manifested. Living is SoCal we know well how rageful is the interaction between Mexicans and Blacks. That's another example of racism. And there are tens, hundreds of forms of racism around the world.
I will not continue in this conversation because you have a clear agenda on the issue, and we already discussed it more extensively some time ago. No need for more of the same for me.
Be well Harry.
You know Harry, I would read your posts if you didn't feel the need to double post everyone else's words which we all have already read. Myself, George and others have tried to show you how absolutely ridiculous this is but your determined to continue the practice. Count me as one of those just not going to listen to what you are saying and it has nothing to do with content. It's your presentation.
Same here. I have been scrolling down his posts. For two reasons, One is the format as you mentioned, and the second IS content, as I explained above in post #27. I am done with that issue.
Thanks, @webEd, for that thoughtful and clear explanation.
I'm glad it was legible what my query was, why I was asking it, and that you saw fit to help me with an answer.
Appreciated.
HA
Thanks, @GeorgeTichy.
You are such a smart and thoughtful person.
So, I value your response.
You said:
In response:
I'm not clear what the "horrible bias" is, to which you refer, @GeorgeTichy.
What is it? Please state it, explicitly, as opposed to just saying that there is one.
As for this statement:
As I've already stated, white people typically reject these claims, on their face, much as you are doing now.
Meanwhile, non-white people typically do not. In my experience, a common non-white response is a nod, accompanied by a momentary, somewhat faraway gaze that seems to indicate a cognitive conclusion and insight.
I think of these exchanges as being akin to the acknowledgment of the "God-shaped hole" that many Christians say each person bears, even if not aware of it.
I think each non-white person possesses a "Racism has a sole functional form: White supremacy; Racism is a global system; All non-white people are victims of white supremacy in all nine areas of people activity"-shaped hole. At least, that's been my experience.
Thus, I consider your conclusion, that, my emphasis, "nobody [will probably] agree with it," something of an overstatement, particularly if one notes that most bodies are non-white.
You said:
In response:
I'm not clear what the "flaw" is, to which you refer, @GeorgeTichy.
What is it? Please state it, explicitly, as opposed to just saying that there is one.
You said:
In response:
That's correct.
You said:
In response:
It's an excellent question.
I say that it would first depend on how one defines the term racism.
Many white people define it weightlessly; i.e., utilizing a definition from Merriam-Webster that begins with the words, "A belief…." In other words, racism is a thought.
However, those following the news have seen that even this great publisher has had to adjust the way they contextualize the word, in the wake of global developments.
I define racism, as follows:
Racism =

(1) The scientific practice of unjust subjugation, misuse, and/or abuse of persons classified as "non-white," by persons classified as "white," on the basis of color or non-color, and/or, on the basis of factors "associated with" color or non-color.

(2) White Supremacy.

[Note: It is incorrect to use the term "White Racism." To use this term is to imply that Racism exists in a form other than White Supremacy].
So, based on that definition, the endeavor you critique—"to persuade others that all white (and only whites) are racists"—might only partially be one of the manifestations of racism.
That is, I do endeavor to persuade others that only white people can practice racism. That's true as long as racism is white supremacy, and the first requirement for engaging in white supremacy is that one be white.
But I do not endeavor to persuade others that all white people are racists.
If someone were to ask me, "Are all white people racists?", I would say, and I have said, "I do not know."
So, if a white person said, "All white people are racists," but said it, knowing it to be false, I would consider that a manifestation of racism, since deceit is the chief weapon of a racist.
You said:
In response:
Again, I say there is only one, and white supremacy is it.
But, I'll allow it….
You said:
In response:
In the opening of my response to @ajshep, I refute the essence of your above claims.
I do this, in my answer concerning "Hutus and Tutsis."
To the degree that the following are non-white people, I hold this to encompass your contentions re: "Mexicans and Blacks," as well as re: "tens, hundreds of forms of racism around the world." There is no such thing. (See "NABISCO," above.)
Of course, now, and/or at any point in the future, I invite those who disagree to refute my argument.
You said:
In response:
You must be thinking about someone else.
I haven't had any discussion with you about an "agenda" I possess, unless I spoke to you about this: The development of a counter-racist logic system that non-white people, globally, might adopt and employ, in order to eliminate white supremacy and replace it with justice.
• I think white supremacy, and issues concerning racism, can be coherently discussed by non-white people through such a prototypical system.
• I think the objections of racist suspects, aka white people, can be both met and disassembled through such a prototypical system.
• Most of all, I think non-white people can derive clarity in the midst of confusion, through such a prototypical system.
If I do have an agenda in this area, it's that, and that's it.
You said:
In response:
Be well and blessed, @GeorgeTichy!
HA
Thanks, @2humBaby.
You said:
In response:
You and I have addressed this topic, already, here.
At the end of the exchange, you said, specifically, about my posting style:
Have you changed your earlier position?
If so, why have you done so?
HA
No Harry I haven't changed my position. I hoped to communicate a second time that your opinion is important and should be read. I just think your audience is getting smaller.
Thanks, @2humBaby.
You said:
In response:
Oh, good.
You said:
In response:
Thanks for your kind words.
You said:
In response:
Thanks for your concern.
I'm confident that those who need what I have to say will look past some necessary bracketing, and search for the ideas, inside.
Those for whom it is just a curiosity will ignore me, as I do them.
HA
I think if you'll check your facts you'll find that it wasn't black folks who put Trump in office.