Thanks, @Cliff.
You said, about @PapaAfful:
Well, I have, @Cliff.
I don't know if you saw it, because I did not hear back from you.
However, I recently wrote to you, at the ABSG offices, about a passage that appeared in the quarterly on Sunday, May 9; one about how eagles care for their young.
It said:
"The eagle was known for its unusual devotions to its young. It too lived on mountain tops. In teaching its young to fly it carried them upon its back to those great heights that overlook the plains of Sinai, then it dropped them down into the depths. If the baby was still too young and too bewildered to fly, father-eagle would swoop down beneath it, catch it on his back, and fly up again with it to the eyrie on the crags above. And that, says the divine voice, is 'how I brought you out of Egypt to myself.'" — George A. F. Knight, Theology of Narration (Grand Rapids, MI: William B. Eerdmans Publishing Company, 1976), p. 128.
This is all well and good, except for one problem: The aquiline behavior Knight describes is not observed in nature.
Put another way, no one whose ever watched a Richard Attenborough nature documentary, or even Mutual of Omaha's Wild Kingdom, has ever seen an eagle fly with an eaglet on its back.
Further, by the time a young eagle is ready to fly, she is nearly the size of her parents. So, the sight of a fully grown eagle, flying with another nearly grown eagle on its back, coasting about, dropping it, and catching it — with its back — would be preposterous.
Instead, eagles learn to fly in a manner akin to how babies learn to walk: They try it out until they get it right.
A very common developmental step before flying, and one that has been documented on film and video, is called "branching." When branching, an eaglet will stand on a tree limb, or up in its own nest, extend its wings, and let the wind catch them, sometimes fluttering, sometimes rising briefly aloft, sometimes momentarily hovering, and/or "hop-flying" from branch to branch.
What one gets is the sense that the eaglet is acquiring a kinesthetic understanding of how air works when moving through their outstretched wings and feathers. This seems somewhat akin, for example, to how a human pilot, training for her license, might practice certain controlled movements in her Piper Cub.
Branching can be observed in the following video, starting around 1:07. Notice that the bird's parent, which leaves the nest shortly after that point — see the YouTube still frame, below — does not carry the eaglet on its back, and is essentially the same size as its offspring.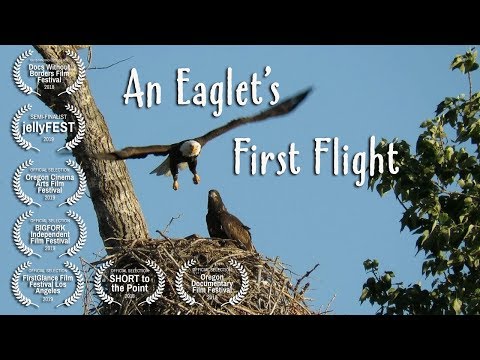 Because of these facts, there has been a long-standing debate on how we should understand the verses cited in the ABSG, especially Deut. 32:10-12.
Perhaps, the next time those texts are taught, the ABSG could explore the approaches scholars have taken, over time, to explaining them. That way, we'll know you've got our back.
HA